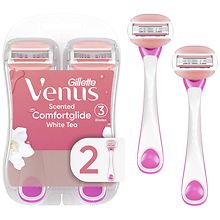 Image courtesy of Walgreens
So, with the hair removal gel cream gone, it was time to move onto another products, and today was that day. I picked these up on a trip to the drug store last week, and grabbed them because hey, no need for shaving cream. One less thing to worry about.
I had no problems with it. I just ran it under the faucet real fast, and went. It was smooth, and I didn't feel like I needed to add any shaving cream or gel to get it to work. It also smelled wonderful, and left my legs silky smooth.
For a disposable razor, which is the ones I prefer as they tend to be cheaper to replace (sorry, mother nature!), it was very easy to keep hold of. I know I tend to have issues keeping my grip on the handle due to the usually rectangular, odd shapes they come in, but this one was easy to keep a hold of an maneuver.
Would I repurchase it? ;; Yes
Where you can buy it ;; Your local drugstore
Normal Price ;; $7.49

This review is independent and in no way shape or form affiliated with Procter & Gamble.