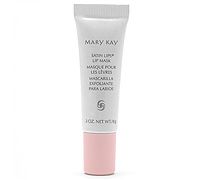 Image courtesy of Google
I will admit, when I first started wearing makeup back in the day, I was spoiled. My mum only let me wear Mary Kay, because that was what she swore by at the time. Thing have changed, obviously, and Mary Kay is a very rare thing to have in my makeup bag. However, during the move, I found this, and decided to hold on to it just in case. It's also part of a two-step system, the second being a lip balm, but that was long since lost.
The Satin Lips Lip Mask is, down to the nitty gritty, a lip scrub. It removes the dead skin from you lips, and makes them feel smoother. Now, I use this product for two things only -- when my lips are horribly chapped, and stubborn lip color.
As 'lip scrub', which is technically what it is, it's decent. It does remove a majority of the dead, icky skin from my lips. But there's still a lot left over after I rinse it off. It also doesn't remove some of my more stubborn lip colors completely. I don't feel that it's abrasive enough to properly do either, and I prefer abrasive scrubs anyways.
It's not a terrible product, but it's not my favorite.
Would I repurchase it? ;; No.
Where you can buy it
;;
Mary Kay
Normal Price
;; $9.50

This review is independent and in no way shape or form affiliated with Mary Kay Inc.